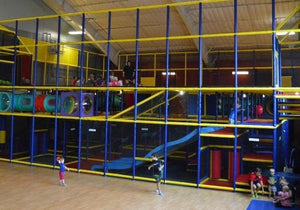 The perfect way for children from the general public to enjoy our 3-level Kidmazium! The maze features slides, tunnels, obstacle courses, ball pits, monkey bars, basketball hoops, an air bouncer, a 12-foot "zip line" and more! 
This punch card allows for 10 Kidmazium visits, up to 2-hour time limit per visit. Recommended for toddlers up through age 11. 
Limited time offer. Available to members and non-members to purchase. Cannot be combined with any other offers, specials or previous purchases. Upon making purchase, the Kidmazium punch-card will be available for you to pick up at Universal Athletic Club during regular club hours.  Adults are NOT permitted to play inside Kidmazium, and responsible adult 18+ must remain inside of Universal Athletic Club while child is playing in the Kidmazium.
Visit www.UniversalAthleticClub.com for current Kidz Klub hours.